OK, just saw Skating with Celebrities. It was "OK" ... there were entertaining moments but not quite as exciting or fun as would have thought.
JILLIAN BARBERIE & JOHN ZIMMERMAN
Clearly the best looking couple, and it didn't hurt that she has a Skating background. She's Canadian, eh. Most entertaining of the night.
DAVE COULIER
Dave Coulier & Nancy Kerrigan did an OK number and were definitely a strong second. It helps that he plays hockey but his routine just seemed a bit "hokey" ... the guy really has no "rhythm". LOL
BRUCE JENNER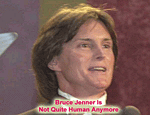 OK, PLEASE someone explain to us ... why does Bruce Jenner look so horrible? WHY???? Why did he go and have so much plastic surgery done??? He looks like an Alien. EWE EWE EWEW!!!
DEBORAH GIBSON
Deborah Gibson is still a sweatheart ... but too much show stuff and not enough real skating. Unlike some of the other celebrities, she's never skated before so kudos to her.
TODD BRIDGES
Missed Todd Bridges' routine so can't comment. Think he could roller blade (or roller skate<?&gt
so that is a bit of an advantage compared to Deborah.
OVERALL
There was something missing from the show ... wasn't as entertaining as thought would be. Seeing them fall in practice is funny up to a certain point (the falls by Bruce Jenner looked the most painful ... maybe we'll hold off learning to skate LOL).
In terms of the judges, it was nice to see Dorothy Hammil, and of course the news that (Sir) John Nicks is once again coaching Sasha Cohen. Afraid don't know Mark Lund.
SO, Dorothy is the "Paul", and John is the "Simon" of Skating with Celebrities. Does that mean Mark is the "Randy"? LOL